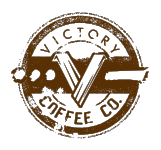 About Victory Coffee Company
Victory Coffee Company provides supportive employment complete with mental health care, substance abuse recovery, skills training, transitional housing, and paid wages to those in need. The idea came from several conversations around social enterprise but was made possible through a partnership with Brick and Mortar. Brick and Mortar roasts the beans that are transported to Victory Mission for packaging by individuals at Life360 House and Victory Square.
How to Purchase Coffee from Victory Mission:
Victory Mission's business model targets two customer segments; organizational subscribers and retail customers. Organizational subscribers maintain consistent orders and keep the supply chain active so Victory can complete its mission of supportive employment for marginalized populations. Because of the capacity generated through organizational subscribers and need for their partnership, we are able to sell coffee to businesses, churches, and civic groups near the break-even point or near half of the retail rate.
Retail sales, a fraction of operations, cost more because we are unable at this time to predict volume. However, growth of retail sales is important because they generate additional revenue to cover operational expenses not traditionally covered by grants or individual donations. This ensures Victory Mission and Ministry can continue to grow and invest in program development. Complex issues like homelessness, addiction, and poverty need a steady source of prayer, faith, research, action, and evaluation, if we hope to move the needle on community well-being.
1. Become an organizational subscriber:
Contact Development Director Trent Sims at 417-864-2222 or tsims@victorymission.com to schedule an appointment to talk through your coffee needs. Victory staff will provide a coffee demonstration, analyze your process for providing coffee, and determine the costs needed to meet your needs while supporting individuals through paid employment and holistic services.
2. Purchase coffee at retail:
At this time Victory Mission plans to sell coffee at local farmers markets Follow us on Facebook https://www.facebook.com/SpringfieldVictoryMission/ for updates on when and where we are selling. However, to be safe you can always purchase coffee on the second floor of our administrative offices at 1715 N. Boonville. Feel free to call ahead at 417-864-2200 or email selliott@victorymission.com to have the coffee ready for you.
3. Future individual subscription process:
To ensure the greatest quality of customer service, we are building our business around organizational subscribers. However, once this system is in place and the supply chain is fully functioning, we will open up sales to individual subscribers at rate below retail. Thanks for your patience at this time. We hope to have this option available by the holidays or January 2019.